"Quinoa is a staple food of the Incas and the Indians in Peru, Ecuador, and Bolivia. During his pioneering investigations in the 1930's, Weston A. Price noted that the Indians of the Andes mountains valued gruel made of quinoa for nursing mothers. Quinoa contains 16 to 20 percent protein and is high in cystine, lysine, and methionine – amino acids that tend to be low in other grains. It contains iron, calcium and phosphorus, B vitamins and vitamin E, and is relatively high in fat. Like all grains, quinoa contains anti-nutrients and therefore requires a long soaking as part of the preparation process."
– Nourishing Traditions by Sally Fallon & Mary G. Enig
You can sprout quinoa in any container, I like to use glass mason jars. Soak 3 cups of quinoa in 5 cups of water for at least 6 hours. Drain sprouts. After that, rinse sprouts with fresh water at least twice a day until the tails are at least three times the size of the grain in length. Quinoa sprouts very quickly and should only take one day to sprout.


Dehydrate grains at a low temperature for 12 to 24 hours. Let grains cool for a few hours before grinding. I like to freeze my grains before grinding them.
In a grain mill, food processor, or vita-mix, grind grains. I used my food processor. It took 15 minutes to grind grains. The end product looks like fine ground cornmeal, with a light creamy color. I decided to sift the quinoa flour to obtain a fine flour for baking.
On the left is the sifted quinoa flour. On the right is the coarse granules.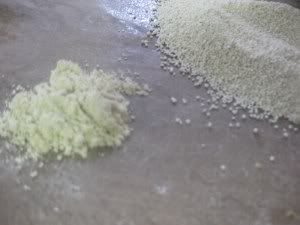 I will be posting some recipes using quinoa flour next week
!

Print Friendly
Related Posts