New to Essential Oils? Sign up for a FREE 14 day e-Course and email series to walk you through the basics! Register now for FREE here!
One of my favorite recipes to make for my two-year old are my
Nourishing Chicken Nuggets
. Kid's love chicken nuggets! I love them too! I love that I can make a big batch of these once a month and freeze them for an easy, nourishing, quick meal or meal on the go. Though my daughter loves this recipe, my husband and I (who were both raised eating the McD's nuggets) find these chicken nuggets nowhere near to taste of what we know chicken nuggets to be. I also wanted to come up with a chicken nugget that are gluten-free/grain free, as I am currently eating very little to no grains at the moment and I know that many of my readers are on special diets the prohibit them from eating gluten or grains. I also want to add that this recipe is easier and more tasty than my previous recipe for
Nourishing Chicken Nuggets
. If you eat gluten or grains you may use the breading I used in the previous recipe in place of the grain free bread crumbs. Enjoy!
Grain Free Chicken Nuggets
Makes 32 Small or 18 Large Chicken Nuggets
2 Whole Chicken Breasts, bones removed (from pasture raised chickens)
2+ Chicken Livers, from pasture raised chickens (see why here)
1 teaspoon of Real Sea Salt
1/2 teaspoon of Parsley flakes
1/4 teaspoon of Onion powder
1/4 teaspoon of Pepper
2 Eggs, beaten (pasture raised or organic free range)
1-1 1/2 cups arrowroot powder
1/2 teaspoon sea salt
Pinch black pepper
1/4 cup of coconut oil, melted (where to find coconut oil)
1. Use a food processor to blend chicken breasts and liver.
2. After you grind your meat into a "paste", add seasoning. Process a little more to mix in the seasonings.
3.Roll meat paste into nugget size pieces (smaller than a golf ball) and place on a cookie sheet. Note – It helps if you hands are lightly oiled with coconut oil or olive oil when forming the nuggets.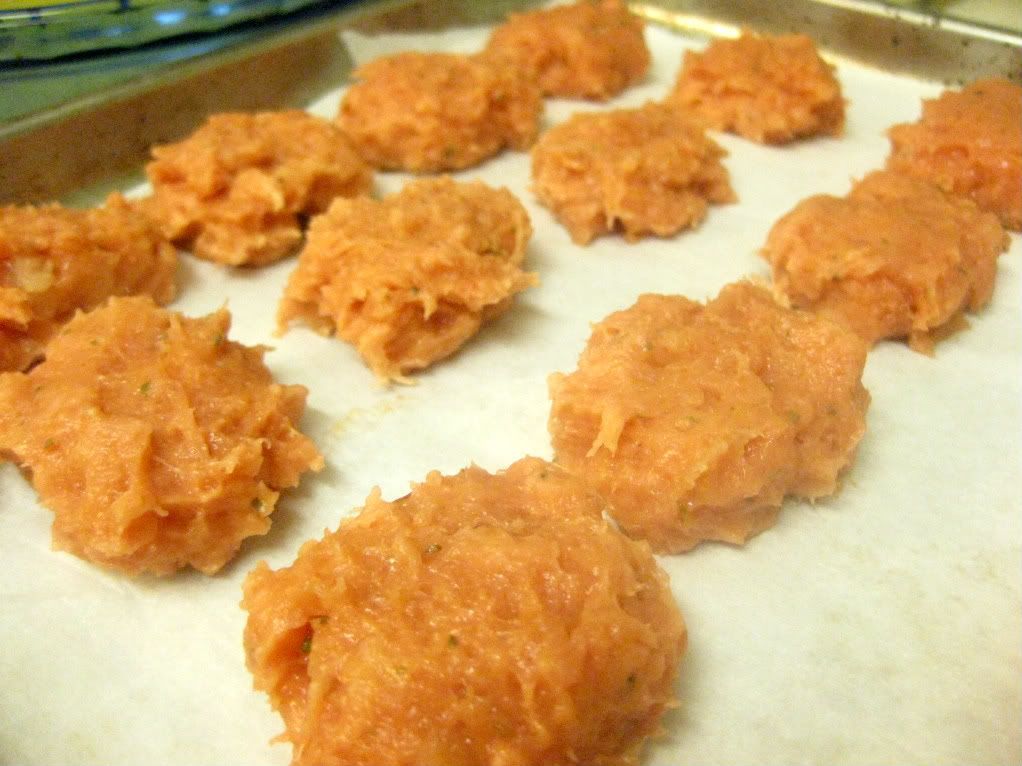 4. You will now need two medium size bowls, plates or baking dishes. Pour arrowroot flour, salt and pepper  into one bowl or dish and lightly beaten eggs in the second dish.
5. Dip nuggets in egg mix and then into the arrowroot flour mix. Coat well and place back on cookie sheet. Continue until all the chicken nuggets are breaded well.
If you would like to freeze the chicken nuggets, do so at this point. Place cookie sheet in freezer for 45 minutes (or until nuggets are frozen on the outside) and the place chicken nuggets in freezer friendly container or ziplock bag.
6. I liked these chicken nuggets baked, but you may fry them in coconut oil too. They will get pretty dark in color. To bake, pour ghee, melted butter, melted coconut oil or melted lard/tallow over chicken nuggets. Bake at 350 degrees for 1 hour or until they are cooked through. Make sure to flip nuggets half way through cooking. You may have to cook them a little longer if you are baking them straight from the freezer.

Print Friendly
Related Posts